DIY Kitchen Remodel
Call us at
(559) 940-0890
Mon - Sat 7 a.m. to 5 p.m.
Contact us right away with any questions.
"Kitchens sell homes." This saying has become popular in the real estate space over many years. The kitchen is among the first things considered by house hunters, because it serves the entire home and is frequently used by families.
Whether creating the dream kitchen you desire or selling your home, your kitchen renovation will first of all require some budgeting and planning.
The following steps will guide you on your kitchen remodeling journey.
DIY Kitchen Remodel: Determine Your Must-Haves
Determining your actual needs is the first step to your kitchen remodel. As with house hunting, this can help you streamline the options and create a budget.
Kitchen options may seem limitless, so unless your budget is too you'll need to select what you actually need. From storage to entertainment space and even the right flow for your family.
Ask yourself the following questions to help simplify your needs:
What do you find uncomfortable about your present kitchen?
Are there things you need less of?
What do you need more of?
Will the layout need to be changed?
What requires an update?
Are you planning to sell anytime soon?
Which updates will bring maximum value to your kitchen?
DIY Kitchen Remodel: Set A Budget
Setting a budget is vital now that you've been able to decide on what's more important.
HomeAdvisor says that kitchen remodeling in the U.S. has an average cost of $22,129. The relatively inexpensive renovations cost about $4,000, while the more expensive ones are above $50,000.
So how do you determine a practical budget for your kitchen remodeling project? A practical guide would be for your kitchen renovation to consume between 5% and 15% of the total value of your home.
For instance, if the value of your house is $200,000, a good budget for your kitchen renovation would be about $20,000 which is 10% of the total value. You can do these few things in order to perfect your budget and decide on funds allocation.
Divide Your Budget By Area Of Focus
Assuming you budgeted $20,000 for your kitchen renovation. You still would need to know where the money will be spent. Here's a breakdown according to the National Kitchen and Bath Association and HomeAdvisor:
Hardware and cabinetry: 29%
Installation: 17%
Ventilation and appliances: 14%
Countertops: 10%
Lighting: 5%
Flooring: 7%
Ceilings and walls: 5%
Design charges: 4%
Windows and doors: 4%
Plumbing and faucets: 4%
Others: 1%
Keep in mind that these are solely estimates, since everyone has different kitchen needs. If you care more about flooring than countertops, then adjust your allocation accordingly.
Just ensure you don't go over your preset budget. What that means basically is that if you choose to allocate more money to one area, try to ensure a balance by deducting from other areas.
DIY Kitchen Remodel: Visit Stores And Showrooms
You should have an idea of the materials available in the market and their prices by visiting showrooms and hardware stores. You may also consider a similar but cheaper option if you want to save some money.
For instance, if you'd prefer your kitchen floors to be natural stone but your budget cannot cover it, you may decide on a ceramic tile with a natural stone finish.
Or you can choose to invest in your dream cabinetry which may be expensive, and then get a cheaper countertop such as laminate.
Leave Room For A Professional
In-depth kitchen renovations involve installations like plumbing, electrical, cabinets, dismantling existing cabinetry or breaking walls, which you may not want to handle yourself.
There are many horror tales of homeowners hurrying to begin their construction projects without noting plumbing and wires in the walls.
Don't end up creating more work for yourself. Leave room for the experts in your budget. Here's a brief rundown of the expected cost for regular kitchen remodeling experts:
Contractors: The cost for this will vary based on location. Most will charge between 10% and 20% of the total cost of the project.
Designers: An estimate of 8% to 10% of remodeling cost, which also varies based on location.
DIY Kitchen Remodel: Bring In The Pros
At this point you know exactly what you want, what it'll cost and what you'll spend. Now you'd want to hire the team that'll help make it a reality.
According to real estate education company, Than Merrill of FortuneBuilders, homeowners often make the grave mistake of ignoring the paybacks of hiring a kitchen contractor, as well as a designer in their kitchen renovation.
They can help keep you on budget, on track, and well on top of the job.
Hiring A Contractor
The actual renovation is handled by a contractor. They are responsible for sourcing and providing all the needed materials, developing a project timeline, and hiring subcontractors to work all through your renovation.
Basically, they ensure that the project runs smoothly and is completed on schedule.
It'll cost extra to hire a contractor, but they bring with them the best deals on materials which could ultimately save you some cost.
You can search for contractors in your locality and see their reviews online via websites like HomeAdvisor or Angie's List. You can also get referrals from family and friends. Ask around to see if anyone can recommend a contractor they've previously worked with.
After deciding on a few experts who might be good for you, you should determine the right person for the job by asking a few questions which may include the following:
Are you licensed?
Do you have insurance for you and your subcontractors?
Will you be getting any needed permits?
Do you offer quotes for free?
What would the next steps be?
What are your payment options?
Is housekeeping part of your service offering?
Will we communicate effectively throughout the project?
These questions can help make sure you are on the same page with your contractor in order to work properly all through the project.
Hiring A Kitchen Designer
Unlike your contractor, kitchen designers won't have anything to do with the actual renovation. As interior designers, they are responsible for planning the design, layout, style and materials needed for your kitchen remodel.
Although private kitchen designers will cost extra, you can get kitchen designers for free through a national home development chain as an added resource.
But then you should note that these designers are restricted to the materials and supplies which that chain offers. Whereas private kitchen designers can source from various places which offer you variety at the right prices.
Ensure you scrutinize your options for designers just like you would a contractor. Search online for local designers and go through their reviews.
Ask friends and family for a recommendation for someone they've previously worked with. You can approach potential designers with these questions:
Do you have samples of your previous work which I can see?
How is your communication process?
Do you have options for payment terms?
Will I have to approve all elements to be included in the design?
DIY Kitchen Remodel: Demo The Kitchen
After doing all the inquiries, preparation, planning and budgeting, your renovation is finally ready to begin. Demo day!
With a contractor all you'd need to worry about is clearing out your refrigerator and cabinets. Otherwise, if you're demolishing by yourself, you need to first consider a few things.
Adequately prepare your kitchen for the demo by checking out these few things:
Shut off water
Turn off gas
Shut off power from your electrical breaker box
Have a trash bin ready
Remove all appliances
Empty the cabinets
Use a drop cloth to protect floors that are not being renovated
After preparing the space, you can begin the demo by taking out items in the following order:
Cabinets, including drawers and doors
Garbage disposal
Sink
Countertops
Backsplash
Dishwasher
Trim in the room
Light fixtures
Small appliances
Drywall
Flooring
DIY Kitchen Remodel: Update Plumbing
Now that you've essentially gutted your kitchen, you can proceed to work on its internal elements such as the plumbing.
If you're doing this yourself, there are a few things you should have handy, like buckets and towels in case there's a leak. Common issues with plumbing which you may be solving in the course of your renovation include:
Reduced water pressure
Leaks from your sink, faucets or dishwasher
Blocked plumbing
Adding a gas line
Updates on shut-off valves
Install Electrical And Lighting
Electrical installations are quite tedious and are normally best left to experts. A contractor (if you hired one) will already have an electrician in place for this aspect of the project. Otherwise, doing it on your own you need to seek guidance from an electrician.
Some common electrical installations include:
Lighting
Dimmer switches
Dishwasher wiring
Installations for a new oven and range
Fitting the countertop with more receptacles
Garbage disposal wiring
Lighting Trends
If you prefer your kitchen to stand out, a chandelier or bold pendant lighting could be perfect for you. Go with glass bulbs for a modern look, or a chandelier with wooden beads for a more natural look.
Under Cabinet Lighting
One trend of kitchen lighting which has become popular for its practical nature and style in recent years is concealed lighting underneath cabinets.
According to Merrill, "Lighting is a very popular feature in kitchens nowadays, particularly under cabinets. It helps to brighten up the meal preparation area and cleaning process throughout the day."
Upgrading The Circuit Breaker
While working with a contractor ensures you don't need to bother about this, if you're doing the renovation yourself you should consult an electrician to figure out your circuit breaker requirements for the kitchen additions.
They can also help you identify if your present wiring is in line with code.
DIY Kitchen Remodel: Hang Drywall
After completing all necessary electrical and plumbing upgrades, you'll need to seal the walls back by putting up new drywall.
Compared to other areas of the renovation, hanging new drywall is fairly easy. If you're doing this on your own, ensure the temperature isn't above 55 degrees a few days beforehand. This will help reduce the room's humidity level.
You might need the following tools:
Drywall hammer
Small drywall saw
Drywall screw gun
Utility screws
Drywall panels
Utility knife
Drywall panels
Tools for mixing the joint compound
Sanding tools
Joint compound
Joint tape
Fiberglass tape
DIY Kitchen Remodel: Paint Walls
After putting up your drywall and ensuring it's dried, the next thing to do is paint.
You'll first of all have to choose your preferred paint colors. If you hired a kitchen designer, you'll get some help deciding on the colors that are right for you. Otherwise, if you're doing it yourself you should keep these things in mind.
Kitchen Paint Trends
In the world of interior design, neutrals still rule, says Derek Hales, Modern Castle's chief editor.
According to Hales, "Neutrals do it anywhere in the home, but especially the kitchen. Some people prefer an all-white look for their kitchen, while others opt for black or warm, soft gray shades."
To stand out with a neutral color for kitchen walls, Hales advises accenting with appealing textures or colored dishware. "It is a nice way to look different while maintaining neutral wall colors," he adds.
Modern kitchens are beginning to go with moody, deep neutrals.
Brass and black are back," says E. Leigh Designs' Erica Reiner. "Black can be seen in everything including faucets, cabinetry paint, accessories and pendant shades, with a bit of brass on drawer knobs and handles, accessories, pendants and faucets."
DIY Kitchen Remodel: Lay Flooring
Flooring comes next after painting.
The level of work needed for your kitchen flooring will vary depending on your preferred material. For instance, with tile flooring you'll get busy laying tiles and grouting whereas hardwood or laminate flooring doesn't need any grouting.
Here are some common options for kitchen flooring:
Linoleum
Linoleum flooring is a cheaper option which is preferred by many renovators on a budget, being that it is available in many shapes, colors and styles. You can get linoleum flooring which resembles wood, classic colored or stone tiles.
Pros
Cheap
Stain resistant
Biodegradable
Nonabsorbent
Low-maintenance
Cons
Scratches and dents easily
May change color if exposed to sunlight for too long
Not recommended for high humidity areas
Reduced resale value
Laminate
In kitchen renovation, there's much debate about laminate flooring. Although many complaints are based on the fact that it's not waterproof, many are not so bothered since moisture in the kitchen can be controlled.
Pros
Low-maintenance
Very sturdy
Closely resembles wood or stone
Easy to install
Cons
Not waterproof
Requires a specific cleaner
Reduced resale value
Hardwood
Hardwood easily attracts house hunters and homeowners because of its natural beauty. If you doubt me, observe how often homeowners on HGTV refer to hardwood. Also, with some work hardwood can last a long time.
Pros
Versatile and beautiful
Sturdy
Long-lasting, if maintained properly
Increased resale value
Cons
Expensive
More maintenance required compared to other options
Sanding and refinishing should be done every 10 years
Concrete
As a more contemporary kitchen trend, concrete is very functional and sturdy.
Pros
Does not dent or scratch
Low-maintenance
All-around finishes
Great for heated floors
Long-lasting
Cheap
Cons
Very hard
Complex installation
Stains if unsealed
Some finishes can be very costly
Ceramic Tiles
And finally, there's ceramic tile. Kitchens have done so well with tile flooring because of their durability, lasting and easy-to-clean features.
And you can also create some very interesting elements of design with tiles. It is also relatively affordable, providing homeowners with longevity and quality.
Pros
Low-maintenance
Water-resistant
Many design options
Cons
Very hard
Can be cold
Laborious and time-consuming installation
DIY Kitchen Remodel: Install Cabinetry
Even though you're doing the renovation on your own, it's advisable to get an expert to handle the installation of your cabinets. You won't want your cabinets to fall down after you have hung and refilled them, or even realize they weren't properly leveled.
If you don't have a kitchen designer to help you determine the best options for cabinets, below are some styles you should know:
Shaker Style
As classic as they come, shaker cabinets fit nicely with many styles. The main element of shaker cabinets consists of the doors which have a panel in the middle set aside from the trim surrounding the door edges.
Hales says, "Shaker cabinets are popular now. Whether a completely modern design, classic craftsman or farmhouse flips, shakers are timeless, having good weight and offering depth-of-field."
Low Cabinets
Cabinets stretched all the way to the top of high ceilings seem appealing to many homeowners, but it's not very practical for many kitchens.
President of NMV Strategies, Nancy Valent says people are beginning to opt for low cabinets. "With low cabinets, you get much easier access and durable pull out drawers for pans and pots," says Valent.
Open Shelving
There's a trend of open and floating shelves across homes in America. Many designers are also in love with this concept since it allows for your properly designed kitchenware to be used as décor.
According to Reiner, "You can replace bulky enclosed cabinets with floating shelves as uppers in order to open up the perceived and visible space in the kitchen. This fits perfectly with transitional, bohemian, contemporary and modern styles."
In addition to showcasing your kitchen, open shelving can also visually open up the space.
DIY Kitchen Remodel: Place The Countertops
You're almost there. Now you can begin to recognize your kitchen not looking like a construction site. The next thing to consider is your countertops.
At this point, keep your timeline closely in mind. Things may hit the brakes here because a lot of designers would rather take countertop measurements after the cabinets have been installed.
You'll want to take particular note of this if you're getting fabricated countertops such as quartz.
The following options will help you pick the right material for your countertop:
Granite
In recent years, granite was the ultimate countertop material. And although it still retains its popularity, upgrades to other materials have created other superior options.
Pros
Sturdy
Available in many styles and colors
Visually appealing
Cons
More expensive
Permeable, meaning it needs to be resealed often
Quartz
Valent says, "Quartz countertops are an ideal, low-maintenance option for a busy kitchen."
Quartz is a durable material, which when mixed with resin, makes countertops resistant to stains, nonporous and easy to clean. Unlike concrete, marble or granite countertops, you need not worry about sealing, polishing or conditioning a quartz countertop.
Pros
Sturdy
Nonporous
Easy to clean
Versatile, with numerous shapes, colors, styles and textures
Cons
Chemicals, like bleach, can damage it
It's not heat-resistant
Costly
Laminate
Laminate countertops may not be the best quality option, but they can be considered if you're sticking to a budget because they are very cheap.
Pros
Cheapest countertop option
Easier to install than other materials
Many different colors and finishes
Cons
Easily gets damaged
Little resale value
Doesn't last long
Concrete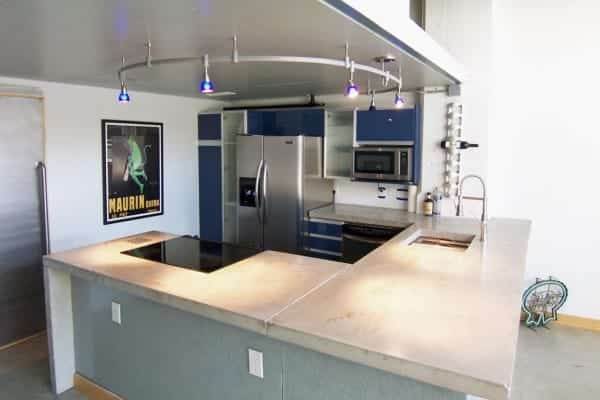 Despite being a new trend in the world of home renovation, concrete countertops are fast gaining popularity.
Hales says, "Concrete countertops are so in. Its surface is sturdy and it offers an industrial feel." You should know though — it may be able to sell on Pinterest, but this generally isn't the kind of project for a casual DIYer. Yet with some expertise, this can be a unique, affordable approach to a sturdy countertop.
Pros
Versatile, as it can be stained and pigmented to become any color or pattern
Industrial feel
Heat-resistant
Sturdy
Cons
Costly
Porous
Easily stains
Butcher Block
Butcher block countertops are perfect for the farmhouse style kitchen.
Pros
Stylish
Gives warmth to a space
Cons
Scratches easy
High-maintenance
Not waterproof
DIY Kitchen Remodel: Hang Backsplash
As we inch closer and closer, it's time for your kitchen backsplash to be installed.
Hale says white subway tile has something special. "The classic white subway tile is so far one of the most famous options for backsplashes. And it's all for good reason. Its easy-to-maintain, simple natural color palette offers you the ideal backdrop to well-plated meals.
You can make the usual subway tile more interesting by choosing a different shape. Reiner says, "Mosaics, hexagons, 3D texture style and Moroccan lantern-shaped tiles and readily available these days. And I love them because they offer so much texture, style, interest and that amazement to the kitchen."
DIY Kitchen Remodel: Bring In Appliances
Finally, your renovation requires that you bring back your appliances. If you aren't changing any appliance, then this will be an easy step. However, if you want to upgrade your appliances, consider the following smart options.
Samsung Family Hub Smart Refrigerator
This is a top notch smart refrigerator. With its inbuilt cameras, you can get an inventory of the entire contents of your fridge. So in times when you go to the store and can't recall if you've run out of milk, you simply need to check your smartphone camera and you'll always know for sure.
This refrigerator also lets you sync up calendars of other people, leave notes and stream videos and music on it.
June Oven
The June oven allows you to cook food from any area of your house, or anywhere in the world really, simply with your smartphone. It is referred to as the only smart convection oven in the world. Its biggest boasts lie in its presets.
You can create presets to make the oven cook with your preferred moisture and doneness. This way you can be sure your food results will be precisely as you want. It also cooks 3x faster than the conventional oven, saving you time and hassle.
Behmor Connected Coffee Maker
This amazing piece of kitchen technology is more than just a programmable coffee maker.
The Behmor Connected Coffee Maker not only allows you schedule the brew time of your coffee, it also gives you control over the temperature, altitude and pre-soak time all from Amazon Alexa or your smartphone.
You can now brew the perfect cup of coffee in the mornings!
Samsung Chef Collection Cooktop
Samsung Chef Collection Cooktop offers you top notch culinary technology right in your kitchen. This cooktop comes with a modern design and can connect to your smartphone as well as other products from Chef Collection.
For instance, the hood turns on automatically when the cooktop is turned on. The wireless connection to your smartphone means that you can check your dinner from another room.
Enjoying Your New Kitchen
Though it may be a lengthy process to achieve your kitchen renovation, it's ultimately worth it. Be it building your dream kitchen or renovating to sell, you've done the work and should rest and enjoy it.
Please read our next article on dishwasher installation.
Call us at (559) 940-0890