Whether you are selling your home or designing your dream kitchen, you must first budget and plan for a DIY kitchen remodel. Here are a few steps to get you started.
Determine Your Essentials for a DIY Kitchen Remodel
The first step in remodeling your kitchen is determining your exact requirements. This, like looking for a house, will help you narrow down your options and develop a budget.
There may be an infinite number of kitchen options, so unless you have an unlimited budget, you must choose your actual needs.
What products do you require more of?
Do you require fewer of certain items?
Are you planning to sell anytime soon?
Which improvements will increase the value of your kitchen?
Create a Budget for Your DIY Kitchen Remodel
Setting a reasonable budget is critical. In reality, your kitchen remodel should cost between 5% and 15% of the total value of your home.
The following suggestions will assist you in streamlining your budget and allocating funds.
Assume you have a $25,000 budget for your kitchen renovation. You would still have to divide the funds among the various areas.
According to HomeAdvisor and the National Kitchen and Bath Association, the following breakdown is appropriate:
29% for cabinetry and hardware
17% installation
10% for countertops
14% for appliances and ventilation
7% for flooring
5% for walls and ceilings
5% lighting
4% for doors and windows
4% for design costs
4% for faucets and plumbing
1% for others
It should be noted that these estimates may vary depending on the specific needs of the kitchen.
Visit Showrooms and Stores for a Do-It-Yourself Kitchen Remodel
Visiting hardware stores and showrooms will provide you with an idea of the materials available on the market as well as their prices.
For example, if you prefer natural stone for your kitchen floors but it is out of your price range, you can opt for a ceramic tile with a natural stone finish.
Consider Hiring a Professional for a Kitchen Remodel
Electrical, plumbing, cabinet removal, and wall breaking are all part of the kitchen remodeling process. Instead of adding to your workload, consider hiring an expert within your budget.
Here's an idea of how much a typical kitchen renovation expert will cost:
Designers: approximately 8-10% of renovation costs. This estimate is location dependent.
Contractors: Depending on location, most contractors charge between 10% and 20% of the total project cost.
Hiring a Contractor for a DIY Kitchen Remodel
You now know exactly what you want, as well as the cost and your budget. The actual renovation work will be handled by a contractor.
They will also source and supply all necessary materials, create a project timeline, and hire subcontractors to work on your renovation.
They're primarily responsible for the project's smooth operation and timely completion.
Employing a Kitchen Designer
Kitchen designers have nothing to do with the actual renovation work. They are the interior designers in charge of your kitchen's design, style, layout, and material requirements.
Though hiring a private designer will cost extra money, a national home development agency offers free kitchen designers.
DIY Kitchen Remodel: Demolition
You can finally start your renovation after all of your inquiries, planning, and budgeting. You would only need to worry about clearing out your cabinets and refrigerator if you hired a contractor.
However, if you are handling the demolition yourself, you must first consider the following points:
Turn off the water and the gas.
Turn off the power at your breaker unit.
Remove all appliances and empty the cabinets.
Save the floors that will not be renovated.
After you've prepared the space, you can begin your demo by removing the following items in the following order:
Cabinets (including doors and drawers)
Garbage disposal unit
Sink
Countertops
Backsplash
Dishwasher
Fixtures for lighting
Appliances that are smaller in size
Drywall
Flooring
Once you have prepared the space, your demo can begin by removing items in this order:
Update the Plumbing in Your Kitchen
After you've gutted your kitchen, you can begin working on its internal components, such as the plumbing. If you are handling this on your own, you should have some towels and buckets on hand to deal with any leaks.
During your remodeling, you may need to address some common plumbing issues, such as:
Dishwasher, faucet, or sink leaks
Updates to the shutoff valve
Install Lighting and Electrical on Your Own Kitchen Remodel
Handling electrical installations yourself can be time-consuming, so it is usually best to leave it to the professionals.
If you hired a contractor, an electrician will be assigned to handle this aspect of the renovation. The following are examples of common electrical installations:
Dishwasher lighting wiring
Dimmer controls
Installation of a new range and oven
Increasing the number of receptacles on the countertop
Lighting Fashions
A bold pendant light or chandelier may be ideal for a more confident look. Glass bulbs will appear more modern, whereas a wooden beaded chandelier will appear more natural.
Under Cabinet Lighting
Hidden lighting under cabinets is a kitchen lighting trend that has gained popularity over the years due to its realistic nature and style.
Upgrades to Circuit Breakers
Another thing you don't have to worry about when working with a contractor. However, if you are doing it yourself, you must first determine the specifications for your kitchen additions.
Hang Drywall for a DIY Kitchen Remodel
After you've finished updating the plumbing and electrical, you'll need to replace the drywall to seal up the walls. In comparison to the other renovation projects, this is a relatively simple task.
If you're doing it yourself, make sure the temperature is below 55 degrees Fahrenheit a few days ahead of time. This will help to reduce the humidity in the room.
DIY Kitchen Renovation: Paint the Walls
You'll need to paint your drywall as soon as it's dry.
A kitchen designer will make color suggestions that are unique to you. If you do it yourself, you should think about these things.
Trends for Kitchen Paint
As far as interior design is concerned, neutral colors still rule. You can use neutral colors just about anywhere in your home, particularly the kitchen.
To create a distinctive kitchen wall with neutral colors, Hales recommends accenting with colored dishware or appealing textures.
DIY Kitchen Remodel: Lay Flooring
Flooring is the next thing right after painting. Your preferred kitchen flooring material will determine the extent of work needed.
Tile flooring, for example, requires time to lay and grout the tiles, whereas laminate or hardwood flooring does not require grouting.
Some common kitchen flooring options include:
Linoleum Flooring
This kind of flooring is budget-friendly and preferred by most renovators. They are available in various finishes such as wood, stone tiles or classic colored.
Pros
Stain resistant
Cheap
Low maintenance
Nonabsorbent
Cons
Easily dents and scratches
Not recommended for areas with high humidity
Color may change is exposed to excess sunlight
Lower resale value
Laminate Flooring
Laminate flooring comes with a lot of uncertainty in kitchen renovation. Most complaints are about its non-waterproof nature, but it doesn't bother many since kitchen moisture can be checked.
Pros
Very sturdy
Low maintenance
Close resemblance to stone or wood
Easy installation
Cons
Not waterproof
Lower resale value
Specific cleaner required
Hardwood Flooring
Hardwood has a natural beauty which easily attracts homeowners and house hunters. If you're in doubt, notice the way homeowners on HGTV talk about hardwood.
Pros
Sturdy
Beautiful and versatile
Long-lasting, if properly maintained
Higher resale value
Cons
Costly
High maintenance compared to others
Requires sanding and refinishing every 10 years
Concrete Flooring
Concrete flooring is a more contemporary trend for kitchens which is very sturdy and functional.
Pros
Does not scratch or dent
Low maintenance
Long-lasting
All-around finishes
Inexpensive
Cons
Complex installation
Very hard
Some finished can be expensive
Stains if unsealed
Ceramic Tile Flooring
Finally, ceramic tiles have served kitchens so well because of their lasting, durable and easy-to-clean features.
Pros
Water resistant
Low maintenance
Several design options
Cons
Can be cold
Time-consuming and difficult installation
Install Cabinetry
Even if you are handling the renovation yourself, we recommend getting an expert to install your cabinets. If you aren't using a kitchen designer, here are some cabinet style options you should know:
Shaker Style Cabinets
Shaker cabinets are classic and fit perfectly with many different styles. They consist mainly of the doors and a panel in-between separate from the trim around the edges.
Low Cabinets
High ceilings with cabinets that stretch all the way to the top may appeal to homeowners, but for many kitchens it's not very practical.
Open Shelving
Homes in America seem to have a trend of floating and open shelves. This concept is also widely accepted by many designers since it allows the use of well-designed kitchenware as decor.
Besides showcasing your kitchen, this style can also open up the space visually.
DIY Kitchen Remodel: Position the Countertops
You should monitor your timeline closely at this point, as many designers prefer to measure the countertops after their installation.
This is particularly important if you're opting for fabricated countertops like quartz. Here are some countertop material options for you:
Granite Countertops
Recently, granite was the superior materials for countertops. And though it's still very popular, other materials have upgrades that are more superior.
Pros
Variety of colors and styles
Sturdy
Visually appealing
Cons
Permeable, requiring regular resealing
More expensive
Quartz Countertops
Quartz is very durable. When mixed with resin, it creates countertops that are stain resistant, easy to clean and nonporous.
Pros
Nonporous
Sturdy
Easy to clean
Versatile, with several shapes, styles, colors and textures
Cons
Can be damaged by chemicals such as bleach
Non-resistant to heat
Expensive
Laminate Countertops
Although laminate countertops are not a very quality option, they are very cheap and budget-friendly.
Pros
Cheapest option for countertops
Numerous colors and finishes
Easy installation
Cons
Damages easily
Does not last long
Little resale value
Concrete Countertops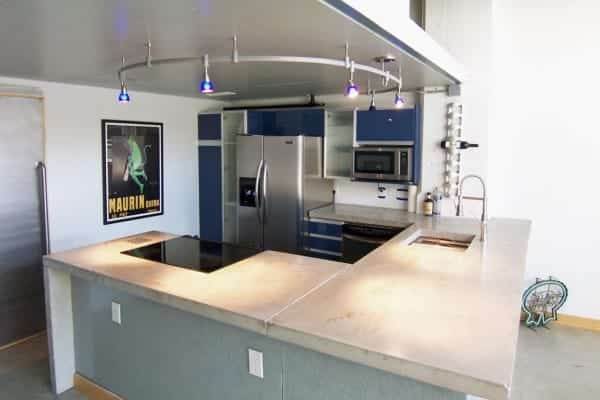 Concrete countertops are a new home renovation trend which is fast becoming popular.
Pros
Industrial feel
Versatile, as it can be pigmented and stained to any pattern and color.
Sturdy
Heat resistant
Cons
Butcher Block Countertops
This option is ideal for farmhouse style kitchens.
Pros
Brings warmth to a space
Stylish
Cons
Easily scratches
High maintenance
Not waterproof
Hang Backsplash
Getting closer to the end of your renovation, it's time to install your kitchen backsplash.
One of the most popular backsplash options so far is the typical white subway tile. It has a simple natural color palette that is easy to maintain, offering the perfect backdrop.
Bring In Appliances
As the final part of your renovation, you'll need to bring back all your appliances.
If you're looking for an appliance upgrade, you should consider the June Oven, Samsung Family Hub Smart Refrigerator, Samsung Chef Collection Cooktop, and the Behmor Connected Coffee Maker.
Enjoy Your New Kitchen
Although your kitchen renovation might go through a lengthy process, in the end it's definitely worth it.
Whether you're building the kitchen of your dreams or planning to sell, you deserve to rest and enjoy it after the work is done.
FAQs in Relation to Diy Kitchen Remodel
Can you DIY a kitchen remodel?
Yes, a kitchen remodel is something that can be done as a DIY project. However, it requires advanced knowledge of plumbing and electrical systems, an understanding of building codes, and specialized tools. Professional plumbers are experienced in installing new fixtures such as sinks and dishwashers while also being able to diagnose any potential issues with existing pipes or wiring. Moreover, they possess the necessary safety apparatus to accomplish the task securely and expeditiously. For these reasons it is best to hire a professional for your kitchen remodel rather than attempting it yourself.
How long does it take to remodel a kitchen?
The duration of a DIY kitchen remodel is contingent on the area's dimensions, the intricacy of the job, and accessibility to supplies. Generally speaking, small projects such as replacing fixtures or updating cabinetry can be completed in just a few days. Bigger renovations necessitating structural alterations can take weeks or even months, contingent on the amount of labor required.
What I wish I knew before remodeling my kitchen?
Before beginning a kitchen remodel, it is important to plan ahead. Consider the layout of your space and create a budget that will allow for all desired materials and labor costs. Research local plumbing companies to ensure you are getting quality workmanship at an affordable price. Inquire about any guarantees or warranties they may have on their products/services. Have an understanding of what type of permits may be needed for the project before starting construction. Before making a decision, ensure you review customer feedback to get an accurate picture of the plumber's capabilities.
What is the biggest expense in a kitchen remodel?
The biggest expense in a kitchen remodel is typically the labor costs. Professional plumbers are required to complete many tasks, such as replacing pipes and fixtures, installing new appliances, and even moving walls or other structural components. Expenses for the job may amount to a substantial sum, depending on its intricacy. Additionally, materials such as cabinets and countertops may also be expensive depending on quality and style chosen by the homeowner. It is important to factor in all potential expenses before beginning any kitchen remodeling project.
Conclusion
A DIY kitchen remodel is an excellent way to upgrade the look and feel of your home, with careful planning and quality materials. With careful planning, quality materials, professional installation services from local plumbing companies like Clovis Plumbing Services, and creative finishing touches you can create a unique diy kitchen remodel that will be both functional and aesthetically pleasing for years to come. Don't forget that when it comes to electrical or plumbing work, hiring an experienced contractor is essential for ensuring safety in your newly-remodeled space.